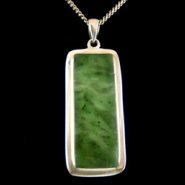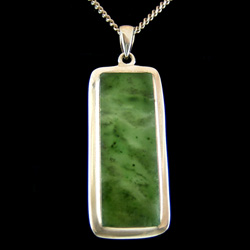 Jade has been highly prized as a good luck stone for thousands of years. The Chinese have had great regard for precious jade crystals since at least 1950 BC, using it to strengthen the body, increase longevity, and cleanse the blood. Not only that, they have always considered it a symbol of purity and wisdom. Ceremonial jade was once mined from deposits within the Yangtze River Delta.
Ancient cultures of the Americas, such as the Maya, have used it in carvings and as a kidney healing stone.
The Olmec and the Maya could only find jade in the Motagua River valley in Guatemala, reserving it for the elite. Hieroglyphs were often inscribed on to jade, which were highly symbolic, involving elaborate rituals.


Known mainly for its translucent emerald green colour, Jade is actually the gemstone name for two different mineral forms, Nephrite (green, cream, or white) and Jadeite (yellow, red, black, green, white, and purple). Deeper coloured stones are more valuable, and the most valuable form is called Imperial Jade, which is translucent and emerald-green in colour.
Gifts Made with Jade!
Carved from beautiful green Nephrite jade, our double-twist Jade Pendant makes an enthralling gift. The double twist represents not only the path of love but also the coming together of two people for life, sharing a life as one.
Connect with your own guardian angel with the help of the sweet Jade Angel! This beautiful carving makes a wonderfully inspirational and calming ornament. Look to your celestial angel for cleansing and detoxifying your own energy. The angel form is very appropriate as jade is said to alleviate pain and heal illness.
Bring light and the gentle touch of jade to your living space with our marvellous jade Tea Light Holder! Jade is known for its healing energy and, combined with the gentle flicker of a small candle, makes for an extremely relaxing effect.