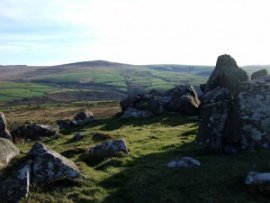 Preseli Bluestone is a uniquely British stone, native to the Preseli Hills in Pembrokeshire, Wales.  In 1923, petrologist Herbert Henry Thomas identified that bluestone from the hills corresponded to that used to build the inner circle of Stonehenge. Recently, geologists have identified Carn Menyn, a grouping of craggy rock outcrops in the Preseli Hills, as one of the bluestone sources. Another theory is that bluestone from the area was deposited near to Stonehenge by glaciations.
Perhaps the reason that the ancients used Preseli Bluestone in their sacred monument was because they recognised the stone's strong connections with the electrical impulses produced by the human body, improving electrical communication throughout the body. Preseli is now generally regarded as having a strong connection with the heart. Preseli, it is believed, serves to balance and strengthen the immune system.


Bluestone Healing
Britain's Geoffrey Wainwright, president of the London Society of Antiquaries, speculated that Stonehenge may have been an ancient healing site – the primeval equivalent of Lourdes. "It was the magical qualities of these stones which transformed the monument," he says, "and made it a place of pilgrimage for the sick and injured of the Neolithic world."
Chakra practitioners look to Bluestone as a way of clearing the Throat Chakra, which is said to help in matters of communication and the body's regulatory process.
Preseli Crystal Gifts
CrystalAge has produced some stunning products from a new find of Preseli Bluestone! If you love crystals, you are bound to enjoy this granite-like stone which is full of 'night sky' inclusions of grey feldspar that give it a striking appearance. Among our enthralling collection of Preseli stones, which include smooth palmstones and collectible tumblestones both perfect for crystal healing.
We're proud to offer possibly the biggest Preseli Crystal Sphere in the world (with more sizes available)! The sphere shape of this crystal ball is said to radiate the crystal's energy in all directions, creating a warm and positive mood in any room.
Another great new item is the Preseli Bluestone Power Bead Bracelet! Take advantage of of  Bluestone by wearing this stylish bracelet. By keeping powerful Preseli close to your skin, you can benefit from the stone's healing properties, especially the benefit it is said to have to your immune system.
A handy way to keep Bluestone with you is with a flat tumblestone such as the 40mm Preseli Bluestone. These polished stones fit right in the palm of the hand and are great for meditation or simply to get the most out of the stone's properties. Tumblestones make a great gift for any crystal enthusiast!
So, if you are looking for Preseli pyramids, pendants, or palmstones, we're sure you will find the perfect gift on CrystalAge.com!