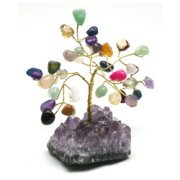 You can enjoy a selection of crystals with this colourful Mixed Crystal & Amethyst Gem Chip Tree. These Mixed Crystal & Amethyst Gem Chip Trees sit on a cluster of natural amethyst which contrasts beautifully with the different colours of the crystal leaves. It is believed that you can create positive energy with the gorgeous crystals on these gem chip trees, the crystals have healing, protecting, cleansing and balancing qualities. The crystals included on the Mixed Crystal and Amethyst Gem Chip Tree are Coloured Agate, Amethyst, Aventurine, Blue Howlite, Carnelian, Quartz and Rose Quartz.
Further Information on Gem Chip Trees
You can easily decorate your home with the gorgeous Gem Chip Trees available. Gem Chip Trees are very elegant and beautiful, with gemstones attached to copper wire branches, they stand on a wonderful clump of Amethyst Crystal. The trunk of the Gem Chip Trees is greatly detailed and the leaves of course are represented by the polished gem chips. The wire on the Gem Chip Trees is fully adjustable, so you can rearrange your tree however you like. Gem Chip Trees can be chosen by colour, gemstone, birthstone or at random, with a great selection including Citrine and Amethyst, Rose Quartz and Amethyst Gem Chip Trees to choose from.
Other Trees to Compliment the Mixed Crystal & Amethyst Gem Chip Tree
Amethyst Gem Chip Tree
In the Amethyst Gem Chip Tree you will find the branches blossoming all year round with charming purple amethyst leaves. The Amethyst chips have been tumbled which has made them smooth and brought out the beautiful colours. Amethyst has very positive energy associated with it and is known as the master healer, believed to improve the immune system and relieve pain.
Rose Quartz and Amethyst Gem Chip Tree
This light and gorgeous Rose Quartz & Amethyst Gem Chip Tree has the delicate milky pink gem chips of Rose Quartz posing as leaves on golden copper wire branches that stand out brilliantly against the pale leaves and dark amethyst crystal base. Rose Quartz is said to attract compassion, understanding, comfort and love. This gem chip tree makes a lovely gift for anybody.
Citrine and Amethyst Gem Chip Tree
With this warm and inviting Citrine Gem Chip Tree, you can enjoy the vibrant gold, brown and beige glowing gem chip leaves anytime you like. The gem chips stand out really well against the dark purple base of Amethyst Crystal. Citrine is thought to unite personal power with physical manifestation and the Amethyst adds soothing and cleansing of the mind and body.