Moonstone is so called as it features a shimmer when the stone moves, in the past people have believed they could see phases of the moon in the stone. The country of origin for Moonstone is Sri Lanka. There are specimens from India which feature a nebulous light and shadow of discreet colours and fine shimmer; this is why Moonstone Jewellery is so popular. The meanings of gemstones vary from country to country, i.e. in India the moonstone is regarded as holy and a magical dream stone, which is said to bring the wearer beautiful visions in their sleep. In Arabic countries women sometimes wear moonstone jewellery sewn into their garments, believing that moonstone is a symbol of fertility.
Moonstone Jewellery Products
Marquise Silver Moonstone Ring
Blue moonstones of good quality are becoming rarer in recent years; however you can find some lovely Moonstone Jewellery rings in the Gemstone Jewellery section. This particular Moonstone Marquise Ring focuses on the crown chakra, (one of the seven energy points of the body) to help mind and body during difficult times.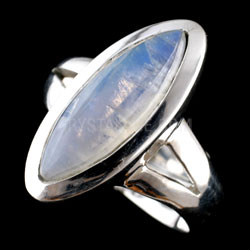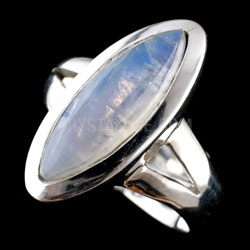 Small Shark Tooth Point Pendant
For an unusual yet incredibly classy look, this Shark Tooth Moonstone Jewellery Pendant is sure to do the job. Wear with an elegant dress or simply as an everyday special touch. This side oval pendant can also be brought as a beautiful gift for someone special.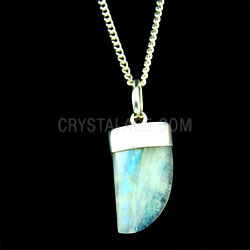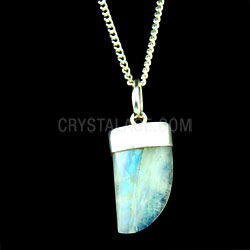 Moonstone Side Oval Pendant
This simple and subtle moonstone side oval pendant is set in beautiful shining silver, highlighting the luminous moonstone for a fantastic look.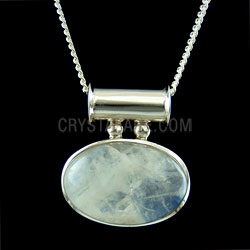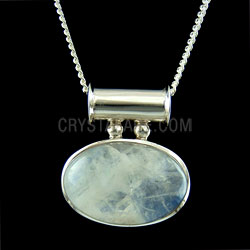 Other Moonstone Crystal Products
Moonstone Crystal Sphere
In addition to Moonstone jewellery, you can also purchase solid moonstone spheres, sometimes called the visionary stone this is said to aid physic development. Particularly useful for women's pains, the moonstone shaded crystal sphere is also great as a gift item.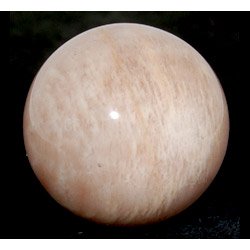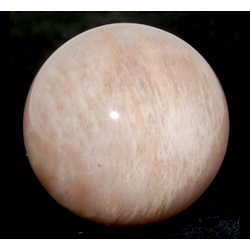 Moonstone Crystal Heart
Enjoy the nurturing qualities of Moonstone in the form of this crystal heart. Moonstone has creams, pinks and occasionally blues which make for a very soft tone wherever you place it. Use this Moonstone Crystal heart to soothe away cramps and to ease pains.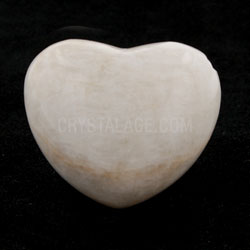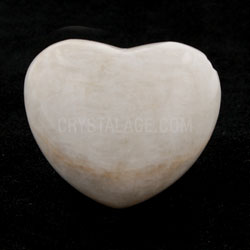 Moonstone Tumble Stones
These tumble stones come from a deposit of Moonstone classified as gem grade, this means they have a super fine structure and delicate soft colour. The beautiful Moonstone Crystal is believed to care and nurture at all times. This gem grade Moonstone is highly recommended for emotional problems as well as period pains. Moonstone tumble stones look great around the home and can even be used around the garden if desired. Another way these Moonstone tumber stones can be used is as a piece of moonstone jewellery by placing one of the gemstones in a Spiral Gemstone Holder which makes for an easy way to carry it with you at all times in a pendant. Tumble stones are sold individually.