Rhodochrosite Crystal is said to represent selfless love and compassion which makes it a lovely crystal to buy in the form of Rhodochrosite Beads. You can either make items of jewellery with rhodochrosite beads, place them around the home, or take them with you in your bag or pocket wherever you go. Crystal healers say that rhodochrosite Beads expand consciousness, whilst integrating spiritual and material energies. Many people use rhodochrosite beads to help their heart and relationships, particularly those who feel unloved. People who have been sexually abused could find rhodochrosite beads and other forms of the crystal helpful in healing and it can also attract a soul mate, it is said that soul mates teach us lessons in life but beware these are not always pleasant experiences. Many people also use rhodochrosite beads to teach their hearts to assimilate painful feelings without shutting down, it also is said to remove forms of denial.


Rhodochrosite Beads Formation
For a crystal that is naturally banded, rhodochrosite is an excellent example, it often has curved bands which are displayed throughout each bead. Due to the warming colour of rhodochrosite beads, the formation is displayed beautifully and uplifts the senses in an instant. You can wear rhodochrosite beads if you are into jewellery making, or alternatively use them around the home to keep near you in times of trouble.


Rhodochrosite Beads Products
20mm Tumble Stone Rhodochrosite Beads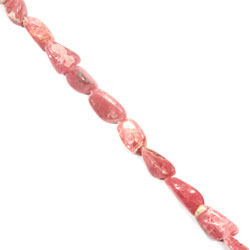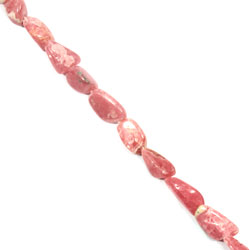 These fabulous 20mm rhodochrosite beads have lovely red and orange tones and each bead varies in shape slightly, displaying the pink banded structure of the beads. You will receive the 20mm tumble stone rhodochrosite beads on a temporary 16″/40cm string, great for getting you started on a piece of jewellery or ornament item.


25mm Tumble Stone Rhodochrosite Beads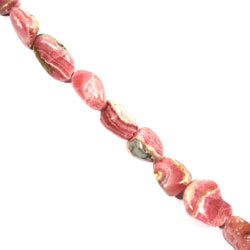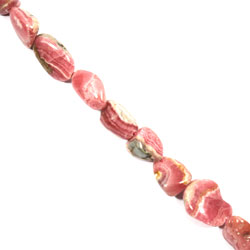 The larger 25mm tumble stone rhodochrosite beads show an even larger surface area of the warming crystal and helps to brighten up your look or home with a comforting tone. Each 25m tumble stone has been polished to a glossy finish and combines pinks with orange and red, complimenting all skin tones beautifully. These gorgeous 25mm tumble stone rhodochrosite beads make excellent gifts for any occasion as well as a lovely addition or start to a crystal collection.