The stunning Mookaite Crystal is actually the Australian form of Jasper, it is said by healers that the Mookaite Crystal imparts a desire for new experiences and a deep calm for which to face them. Many people use the Mookaite Crystal to encourage versatility, to point out all available possibilities in a given situation and assistance in choosing the right one. Mookaite Crystal is considered a physically stabilizing stone which fortifies the immune system, heals wounds and purifies the blood. There are various forms of Mookaite Crystal that you can use in and around the home such as thumb stones, crystal spheres, massage wands, free form and pyramids.


Mookaite Crystal Thumb Stone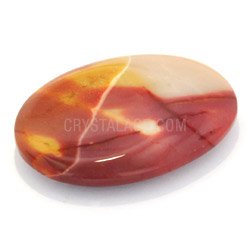 You can use this Mookaite Crystal Thumb Stone to relieve stress and harness the power that the Mookaite Crystal is believed to have. When you feel stressed it is thought that if you simply hold this Mookaite Crystal Thumb Stone you will soon start to feel much better. Using the Mookaite Crystal Thumb Stone is believed to give the user strength, inner calm and a thirst for adventure.


Other Mookaite Crystal Products