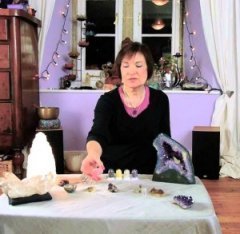 Fans of crystals and crystal healing are often faced with the quandary of where to place their crystals. In the home, crystals can be arranged virtually anywhere – especially in Feng Shui areas like the corners of each room. Although some people prefer the random placement of crystals, others prefer a more organized approach to their collection. Crystal Energy Domes are an excellent way of displaying and benefiting from your favourite crystals in a neat and compact way.
For those of you who want to bring the positive effect of crystals to the workplace but are not too comfortable about displaying large clusters of amethyst or black tourmaline in your work area, our energy domes provide a discreet and attractive way of bringing crystal energy to the workplace. Each dome is only 4.5cm (1.8") in height and so can be positioned near to your work monitor.
Energy Domes for Crystal Healing
An Amethyst Energy Dome not only brightens up your desk but is said to neutralize the electromagnetic field coming from your PC. Amethyst domes are ideal for the home as well, as they are said to offer soothing and cleansing energies, assisting sleep and dispelling headaches.
For anyone recuperating from illness or suffering from depression, a Rubellite Energy Dome is an ideal choice. Rubellite is believed to be a powerful anti-depressant, and has been used to send out healing light that helps relieve the negative, stressful emotions associated with illness.
For a boost of positive emotions, the Oregon Sunstone Energy Domes are a great choice. Believed to help invigorate dulled emotions and promote an uplifting vibration, Oregon sunstone is also used in the healing of sinus problems and damage to bone and soft tissue.
Energy domes are a great choice when you are looking for a special crystal gift. Here at CrystalAge, we have a superb range of crystal gifts for the home that will inspire you!