The Guinness Book of Records features many interesting facts and figures about crystals, from the largest ones ever discovered to incredible record-breaking works of art.
World's Largest Alexandrite
The largest cut alexandrite weighs a whole ounce or 28.38 grams to be precise. That's 141.92 carats, measuring 34.42 x 27.38 x 15mm. All we know about the owner is that they're Japanese and obviously rather fond of the rare alexandrite crystal, which is a powerful stone aligned with the Heart Chakra.
Oldest Spider Trapped In Amber
Amber has been used in crystal therapy for thousands of years, being associated with health and pain relief, but due to it starting out as resin from a conifer tree, it's also been pretty handy at preserving bugs for millions of years. The oldest spider trapped in amber was discovered over a decade ago in Lebanon and has been dated between 125 and 135 million years old.
The World's Largest Agate Crystal
One of the most popular crystals is agate which comes in various colours each with their own metaphysical qualities. The largest agate crystal was verified by Chinese authorities in 2009 and measures in at a whopping 22.62 cubic metres. That's a little shy of 3 metres long from top to bottom.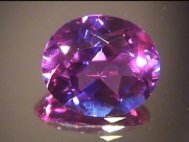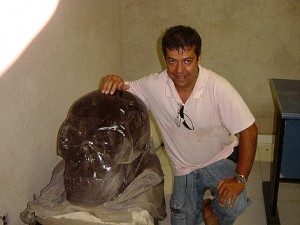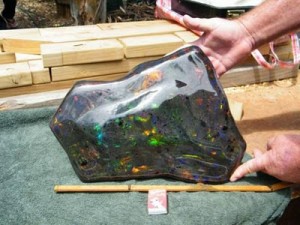 The Biggest Amethyst Geode In The World
Talking of large crystals, how about an amethyst geode that weighs 13 tonnes! The world's largest amethyst is on display in the Shandong Tianyu Museum of Natural History in China. Amethyst crystals are aligned with the Third Eye Chakra and are believed to be a powerfully spiritual stone, perfect for meditation and expanding consciousness.
Largest Black Opal
Opal crystals occur in a wide range of varieties and each has its own set of crystal healing attributes, all associated with uplifting energy and connected to all the Chakras. A black opal discovered in the wonderfully named Lightning Ridge in New South Wales, Australia, weighs 80 ounces, which is upwards of 11,340 carats. It's the largest black opal ever discovered.
Most Crystals on a Wedding Dress
How many crystals would it take to make a wedding dress? The answer is an astonishing 45,024. The most crystals on a wedding dress record was achieved in 2011 by Turkish company Özden Gelinlik Moda Tasarim Ltd who took five days to prepare it. It's an absolute bargain too at £12,900.
World's Largest Crystal Skull
Carved from a single block of smoky quartz, which is a brown or black variety of quartz associated the Root Chakra and used in crystal healing therapies to relieve stress or anxiety, the world's largest crystal skull weighs approximately the same as a sumo wrestler (158kg or 348lb). It is named Colossus and was created by renowned Brazilian skull carver Leandro, who is currently offering it for sale for between £70,000 and £105,000.
Largest Crystal In(side) the World
The world's largest single crystal is, surprisingly, beneath your very feet. Many geologists currently believe the earth's inner core to be a giant single crystal. A ball of mostly iron residing at a toasty 6000°C, the immense pressures present at the earth's interior mean the inner core is solid and not liquid. The crystal theory has developed further due to the behaviour of the seismic waves that travel through the earth's layers. Its mass is about three quarters the size of the moon, a little over 1500 miles across, so it's probably not entirely suitable for use as a healing crystal.