The colourful Tiger Eye Crystal is a member of the quartz family, Tiger Eye has beautiful bands of yellow-brown to gold colours running through them. Most Tiger Eye is found in South Africa, but is also in India, Burma, Western Australia and the USA. Crystal healers and collectors believe that Tiger Eye Crystal is a solar stone of vitality, practicality and physical action, helping the user to remain calm and cantered, regardless of outer or inner situations. Many use the Tiger Eye Crystal to clear their minds and sharpen logic.


Tiger Eye Gemstone Chip Bracelet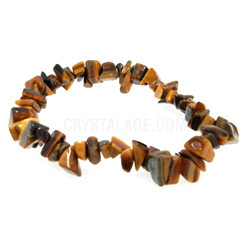 This stylish Tiger Eye Gemstone Chip Bracelet makes a gorgeous gift and ideal addition to any jewellery collection. Featuring gorgeous rich tawny colours, the Tiger Eye Gemstone Chip Bracelet shimmers in the light to update any look. The Tiger Eye Gemstone Chip Bracelet is classed as a protective stone and can be carried as an amulet or talisman, said to bestow the strength, courage and spirit of a tiger. Capricorn and Leo are the birth signs of the Tiger Eye crystal, so any tiger eye product makes an ideal birthday gift for those falling under these signs.


Tiger Eye Thumb Stone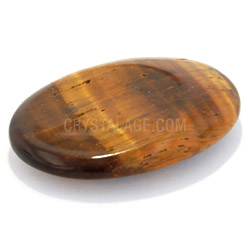 The warming Tiger Eye Thumb Stone is reminiscent of polished wood, you simply hold this thumb stone to benefit from the believed properties that it carries. Lots of people use Tiger Eye Thumb Stones as worry or stress stones, to focus on stress relief and stilling the mind. It is also believed that Tiger Eye promotes creativity, ambition and dynamic energy, often used to combat depression.