The beautiful Moonstone Gemstone is said to be the "stone of new beginnings" it is strongly connected to the moon and intuition. Moonstone Gemstone is reflective and said to have a powerful calming effect on emotions. At the time of a full moon, the Moonstone Gemstone is said to encourage lucid dreaming, traditionally used to enhance psychic abilities and to develop clairvoyance. It is said that Moonstone Gemstone can calm overreactions to situations and emotional triggers, thought to be filled with receptive, passive, feminine energy.


Moonstone Gemstone Chip Bracelet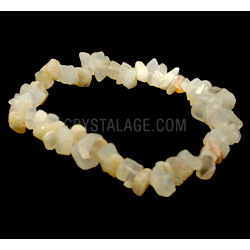 You can wear this pretty Moonstone Gemstone Chip Bracelet to improve your mood, soothe emotional instability and stress and stabilize the emotions. By wearing the Moonstone Gemstone Chip Bracelet it is also believed that old emotional patterning can be drawn out, understood and dissolved, providing a deep emotional healing as well as upper digestive tract disorders that are related to emotional stress. The Moonstone Gemstone Chip Bracelet makes a lovely jewellery addition and moonstone is thought to help the reproductive system, sleepwalking and even childbirth.


Moonstone Tumble Stone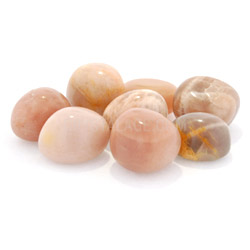 Many crystal collectors and healers use Moonstone Tumble Stones, they have a superb highly polished surface which showcases the stones captivating and unique features. The Moonstone Tumble Stone is a great way to keep your favourite crystal on you at all times, allowing you to benefit from the properties that Moonstone is said to have. Each Moonstone Tumble Stone is said to be dedicated to the moon, fertility and femininity. Another useful quality that the Moonstone is said to posses is the easing of feminine pains and balance to the hormones. Many people place Moonstone Tumble Stones in vases with other types of crystal tumble stone to create colourful decor in the home.