The beautiful Turquoise Gemstone has been an ornamental stone for thousands of years, being one of the first gems to be mined. Turquoise Gemstone is considered a purification stone, believed to be capable of dispelling negative energy and protection against pollutants in the environment. It is also thought that the Turquoise Gemstone is a mentally strengthening stone in many areas including speaking in public. In the emotional sense the turquoise gemstone is said to stabilize mood swings and bring inner calm to those who use it, stimulating love. Turquoise Gemstone is said to be an excellent healing stone, enhancing physical and psychic immune systems and regenerating tissue.


Turquoise Gemstone Chip Bracelet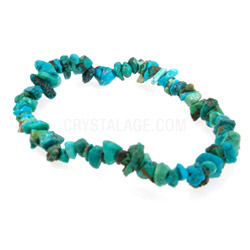 This beautiful Turquoise Gemstone Chip Bracelet displays the vibrant colours of turquoise in a spectacular light. With each of the Turquoise Gemstone Chips being polished to a high finish, this brings out the full greens and blues of the stunning stone. Many people wear these Turquoise Gemstone Chip Bracelets as a protective amulet, it is believed to protect against spiritual harm and the evil eye. Wearing a Turquoise Gemstone Chip Bracelet through difficult times is thought to be very helpful and it makes a very aesthetically pleasing piece of jewellery to go with a variety of outfit.


Turquoise Gemstone Drilled Tumble Stones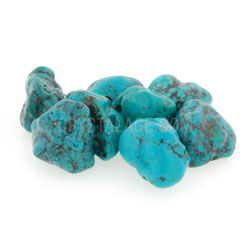 Use these stunning Turquoise Gemstone Drilled Tumble Stones to brighten your home decor, or to bring the power that the turquoise gemstone is believed to hold into your life. The Turquoise Gemstone Drilled Tumble Stones have been polished to bring out the gorgeous blue green colours it is so well known by. You can use the Turquoise Gemstone Drilled Tumble Stones for meditation, healing, jewellery or even a crystal massage.