For a stylish tea light holder with a difference, try out a crystal tea light holder, crafted from beautiful crystals and to a highly polished finish, they make immaculate decorations for the home. Once a tea light is lit inside a crystal tea light holder, the depth and beauty of the crystal becomes more apparent and glows with a magical looking gleam. As each crystal is believed to have strong beneficial attributes associated with them, you can choose a crystal tea light holder according to a specific attribute, colour, birthstone or shape.


Violet Agate Slice Crystal Tea Light Holder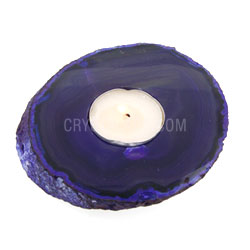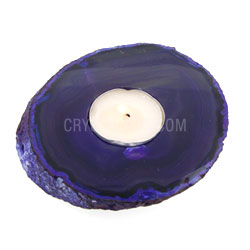 This gorgeous Violet Agate Slice Tea Light Holder looks simply dazzling even without a candle inside it. Featuring a stunning chunk of the crystal formation, the violet agate slice tea light holder has a wonderfully smooth surface and rough cut base which contrasts beautifully, adding depth and beauty to any room that you place it in. The natural banded structure is very soothing and interesting to look at and with the luxurious relaxing colour of this violet agate it will create a romantic ambience with candlelight. The agate crystal is said to be a grounding stone, helping to bring emotional, physical and intellectual balance.


Natural Orange Calcite Crystal Tea Light Holder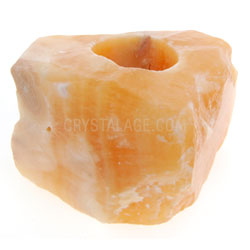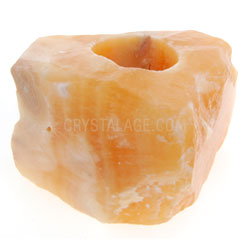 Using this beautifully crafted Natural Orange Calcite Crystal Tea Light Holder you can effortlessly brighten up your home. The warming colour of the orange calcite crystal is displayed in its full natural form beauty for all to admire. As the Natural Orange Calcite Crystal Tea Light Holder has not been polished, the rugged texture of the crystal adds a lovely tone to any room. Orange Calcite is believed to be a very energizing crystal, removing fear and helping to overcome depression. It is also said that the orange calcite can heal the reproductive system, gallbladder and intestinal disorders such as irritable bowel syndrome.