Tealight Holders are most commonly found beneath a burner of some description, aluminium tea light holders. You can also use tea lights as centrepieces, when using beautiful crystal tea light holders in your home. You can match crystals to your birth month, decor, or simply your favourite colour. Crystals look very mesmerizing and gorgeous when near to a wavering flame. These special tealight holders make fantastic gifts for anyone who burns candles in their home, they also double up as a pretty ornament.


Citrine Cluster Tealight Holders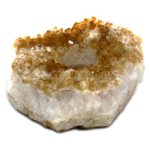 For an almost coral type effect, this perky Citrine Cluster Tealight Holder makes a great addition to the home. The Citrine crystal will lighten up your home with a soft, comforting glow. Citrine is thought to encourage independence, creativity and is believed to attract abundance in all forms. To bring this piece of sunshine into your home it won't break the bank either, very reasonably priced you will be enjoying the effects of these Citrine tealight holders in no time, perhaps even buy a few and create your own candlescape.


Selenite Tealight Holders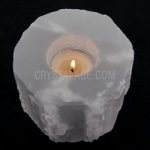 This elegant Selenite Tealight Holder looks great when placed in a pair, or as a centrepiece. The soft tones of grey and white create a marble pillar like luxurious look in your home and with a lit tealight inside, a fantastically ambient atmosphere. Selenite is thought to cleanse and is used to dissolve energy blocks.


Turquoise Agate Tealight Holders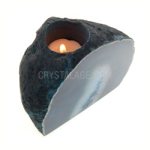 Enjoy the sophistication of burning your tealight in this impressive Turquoise Agate Crystal Tealight Holder. The Agate geode exposes the vibrant and dynamic texture and structure of the crystal fantastically, when you place a tealight inside you create an excellent cave feel. This Turquoise Agate tealight holder is believed to calm the spirit and free from emotional turmoil.
Crystal tealight holders really do make wonderful gifts, they can be used as often or little as wished but in any case they will brighten up a room and add interest and wonder.