Crystals aren't just beautiful and compelling to look at but they have many unique healing and spiritual powers. From awarding greater self-esteem and confidence to healing sexual problems, the unique capabilities of various types of crystals have been exploited for centuries. But did you know that crystals can be used to help attract prosperity and abundance? If you could do with an infusion of fortune in the prosperity stakes take a look at the following crystals which are known for bringing wealth, prosperity and abundance.


Citrine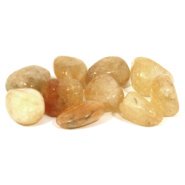 Citrine has been referred to as the 'money stone'. 'success stone' and 'merchants' stone of wealth'. This stunning crystal is yellow or golden in colour and is a member of the quartz mineral group. Ancient cultures believed that placing this stone on the forehead of an elderly person would increase his psychic power.
Citrine is now commonly associated with being a stone of good fortune, which helps a person not only acquire wealth but maintain it. Putting a citrine crystal in your pocket or wallet will help nurture prosperity. Alternatively having citrine tumblestones in a bowl and set in any room in your home is a good idea to attract luck into your living space.


Green Aventurine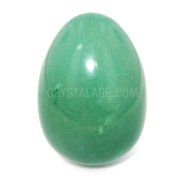 Green Aventurine has been used as a wealth and luck-generating aid for centuries. As a consequence of its lucky-associations, this thoroughly unique looking stone is popular amongst gamblers. In the world of minerals, aventurine in the good luck shamrock, bringing fortune, prosperity, abundance and happiness to all those who own it. Aventurine is associated with the heart chakra and in order for one to be financially secure, the heart must be 'healed' and radiate positive energy. Having this beautiful green stone in your possession will help this positive energy to be radiated, thus healing the heart.
Aventurine can be bought in many forms and is typically green or peach in colour. From a green aventurine crystal egg to a peach aventurine gemstone chip necklace, there are many ways you can utilise the prosperity-generating powers of aventurine. Though it has to be said that it is predominantly green aventurine that is particularly associated with wealth.


Pyrite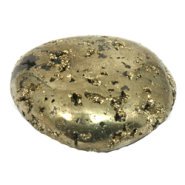 The name pyrite comes from the Greek word meaning "a stone which strikes fire." Being typically golden in colour, pyrite is a traditional symbol for money and abundance. However, it is also worth knowing that it is also known as fool's gold because it can found adjacent to gold deposits and has has been mistaken for gold.
Native Americans believed they could 'look into someone's soul' when they peered into a polished piece of pyrite. Even today, placing a polished piece of iron pyrite tumblestone on the mantelpiece is said to bring wealth and prosperity to the household.


Peridot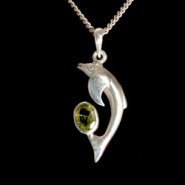 Peridot is another 'stone of money'. It is believed that if you put a piece of peridot with a lump of citrine in your purse it will protect the money and help bring on more finance and wealth. It is also said that only spiritual and clear-minded individuals should exploit the charms of peridot.
Instead of carrying around an awkwardly-shaped piece of peridot in your purse, why not utilise its money-making powers by wearing a stunning peridot pendant around your neck?