Pearl freeform cross pendants are fantastic pieces of jewellery to wear no matter what skin tone you have. The wonderful shimmering finish that the pearl freeform cross pendants have look amazing under the light. There are various styles of pearl freeform cross pendants available, each of them has an abstract design. All of the pearl freeform cross pendants are one-off pieces, therefore they make excellent gift items.
40mm Pearl Freeform Cross Pendants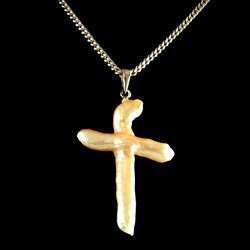 These wonderful 40mm pearl freeform cross pendants have a lovely glow to them and really add angelic style to any outfit you wear them with. This particular style of 40mm pearl freeform cross pendant is a one-off piece so nobody else will have one like it.
35mm Pearl Freeform Cross Pendant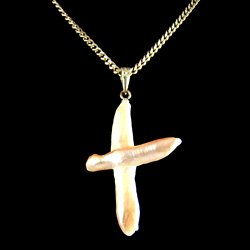 This lovely 35mm pearl freeform cross pendant has a simple yet elegant design, making any outfit look extra special. The one-off piece catches the light in a fantastic manner and the sturdy silver fittings suit silver chains perfectly. There is a two-tone colour effect to the 35mm pearl freedom cross pendant, which compliments all skin tones and stands out fantastically against black clothing.