A colourful and artistic way to brighten up your look is by using the beautiful collection of Amethyst Beads. There are various types of amethyst beads which vary in size, shade and shape, so you can either use one string, or several in conjunction with each other. Some of the amethyst beads you can choose from include drum, round, irregular and flat oval.


Chevron Amethyst Beads 22mm Flat Oval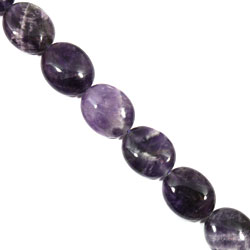 These pretty Chevron Amethyst 22mm Flat Oval Beads are probably the most visual type of amethyst beads available due to the large surface area which displays great detail of the crystal. As there are various degrees of markings on the beads they are great for special types of beadwork, projects or for making jewellery gifts. Amethyst has been prized throughout history for its colour and supposed healing powers and each bead has individual high grade colours throughout it.


Amethyst Beads 8mm Drum Crystals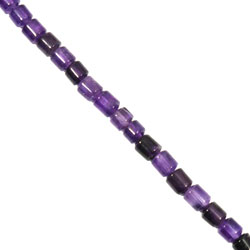 For an unusual yet pleasant way to play with or use crystal beads is with these 8mm Drum Crystals Amethyst Beads. The 8mm Drum Crystals Amethyst Beads are a brilliant way to brighten up your jewellery or beadwork. The 8mm drum crystal amethyst beads come on a temporary 16″ string.