The Amethyst Crystal has been well known for its beauty and legendary energies for thousands of years, it is often therefore used in jewellery such as the particularly lovely Crystal Heart Pendant. Since the Greek and Roman societies placed high value on Amethyst Crystal, it has been seen as a stone of royalty, often used in crowns, scepters and in bishop's rings. A crystal heart pendant makes a romantic gift for occasions such as birthdays, anniversaries and Valentines Day. There are several types of crystal heart pendant products to choose from, with a gorgeous array of colours and attributes associated with each crystal.


Amethyst Silver Rim Crystal Heart Pendant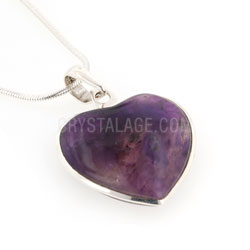 This beautiful Amethyst Silver Rim Heart Pendant will stylishly add depth to any look, displaying the beauty of the amethyst crystal perfectly. The Amethyst Silver Rim Heart Pendant looks great mounted in the striking silver and you can wear it on its own or wear other amethyst jewellery such as bracelets and earrings to match.


Malachite Howlite Two Stone Crystal Heart Pendant
If you like green then you're bound to love this striking Malachite Howlite Two Stone Crystal Heart Pendant. The Malachite Howlite Stone is considered by crystal healers to be one of the most important stones for protection against negative energies. Another believed attribute of the Malachite Crystal is that it can offer an enhanced ability to see emotional traps and where pitfalls lie, in order to avoid them.