Many people use Labradorite crystal both for decoration and the healing benefits that it's said to withhold, Labradorite Beads are fantastic for both uses. Labradorite Beads have a mysterious sheen to them which looks great in the light, the iridescent colour of the beads adds a luxurious elegance to outfits. There are several Labradorite Beads to choose from, with small round beads, to long ovals and rhombus shaped beads.


50mm Rhombus Labradorite Beads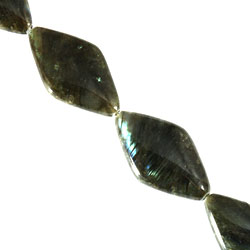 You can make great pieces of jewellery with these 50mm Rhombus Labradorite Beads, featuring an interesting rhombus shape, these eye-catching beads fully display the beauty of labradorite. Labradorite Beads can appear a greyish brown colour, with light gleaming through it however, there are blues and greens deep within the crystal.


Other Labradorite Beads



Labradorite Beads Attributes
If you like iridescent crystals, then labradorite is ideal, referenced to as a bringer of light. Labradorite is said to raise consciousness and connect with universal energies, whilst deflecting unwanted energies from the aura.
Psychologically, labradorite is said to be capable of banishing fears and insecurities from previous disappointments, including those experienced in past lives. Labradorite is also said to calm overactive minds and energize the imagination, encouraging new ideas. Those experiencing change find Labradorite Beads very useful, it is said to impart strength and perseverance, preparing the body and soul for the ascension process.