An easy way to bring colour into your home is by using gorgeous agate slices which display the stunning structure of the chosen crystal. Each of the agate slices has a banded structure which is mesmerising to look at, the agates slices are thin which allows light to shine through the agate. The best place to put agate slices is by a window, where they can be hit by natural light which will make the colours inside glow beautifully.


15cm Natural Agate Slices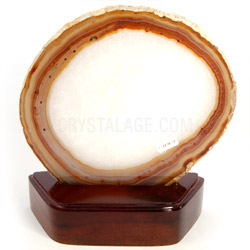 This stunning 15cm Natural Agate Slice comes on a beautiful wooden base, featuring a smooth textured range of milky browns which will help to calm and warm any space you put it in. This subtle piece of 15cm Natural Agate Slice displays the inherent charm of agate perfectly. This gorgeous 15cm Natural Agate Slice is a one-off piece, this means you will receive the exact product displayed.


29cm Magenta Agate Slices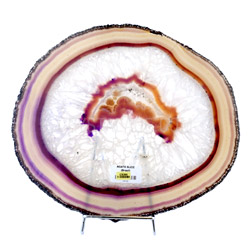 In this pretty example of  a 29cm Magenta Agate Slice you can enjoy soft, warm colours with a twist of cool, in the combination of magenta and brown tones. It is said that agate can create a balance between different types of energy, spirituality and physical planes. This 29cm Magenta Agate Slice is Brazilian and a one-off piece.